PRESS RELEASE
to be released soon
The Seal Bay Festival — Outline of Activities for June 2013
The 2013 festival will feature the following activities and presentations:
A workshop on improvisation through composition with middle school students from the Vinalhaven School and North Haven Community School (approx. 55 children), with participation by all resident composers and performers and music teachers from both schools – 9:00 a.m. to noon, Tuesday, June 11
A colloquium or "idea jam" involving festival musicians, area visual and performing artists and the general public (at no charge), aimed at sharing views, strategies and common concerns in the visual and performing arts, with participation by all resident composers and performers, at Waterfall Arts in Belfast – 4:00 p.m.,Wednesday, June 19
A radio broadcast interview/performance hour on Maine Public Broadcasting Network's "Live at Eleven" series, featuring discussion with composers and performers, along with performed excerpts of festival repertoire – 11:00 a.m., Thursday, June 20
Four concerts of works by the festival's resident composers, featuring instrumentation drawn from two violins, viola, two cellos and piano, to be performed in Smith Hokanson Hall on Vinalhaven Island (7:30 p.m., Tuesday, June 18); at the Waterfall Arts Center in Belfast (7:30, Wednesday, June 19); the Rockport Opera House Recital Room in Rockport (7:30 p.m. Thursday, June 20), and the Dunaway Community Center in Ogunquit, sponsored by Ogunquit Performing Arts (8:00 p.m., Friday, June 21). The Vinalhaven performance will include a structured improvisation, co-created and performed by festival participants and students from the Vinalhaven and North Haven schools. In every venue, composers will introduce their own works in person, and the format for all events is designed to maximize direct contact between composers, performers, students, artists and audience participants.
Participants: Four American composers have been invited to the Seal Bay Festival for
June 2013: Composers will include Daniel S. Godfrey, Pierre Jalbert, Mari Kimura and Harold Meltzer. Performers will include the Cassatt String Quartet (New York, NY) and pianist Adrienne Kim (New York, NY), along with guest Marc Johnson (Cushing, Maine) recently retired (founding) cellist of the Vermeer Quartet. Composers and performers will be in residence at the festival's home base on the island of Vinalhaven, Maine.
Cassatt String Quartet (right), Adrienne Kim, piano (left)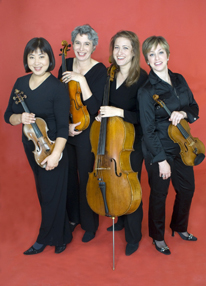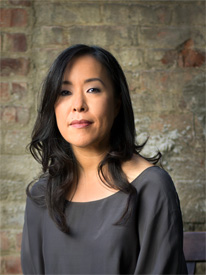 ---
Co-Directors of the Seal Bay Festival are Daniel S. Godfrey (Composer-in-Residence at the Syracuse University's Setnor School of Music), and Steven Stucky (Given Foundation Professor of Music at Cornell University, and recent winner of the Pulitzer Prize in Music). The Educational Director of the festival is Nicolas Scherzinger (Associate Professor of Music at Syracuse University). Also on the festival board is composer John Duffy, who is founder and retired director of Meet the Composer, Inc.; Mr. Duffy currently lives in Cam-den, Maine.
The Seal Bay Festival is made possible by the National Endowment for the Arts as part of American Masterpieces: Three Centuries of Artistic Genius. Funding also comes from the Aaron Copland Fund for Music, the Berta Bornstein Residual Trust, the BMI Foundation, the Davis Family Foundation, the Alice M. Ditson Fund of Columbia University, the Maine Humanities Council, the Maine Arts Commission, the Middlecott Foundation, and Meet The Composer's MetLife Creative Connections Program, as well as from private and corporate contributors.
For further information about the concerts on Vinalhaven and in Belfast and Rockland, please contact Daniel S. Godfrey at (315) 727-8196 or call the Seal Bay Festival after May 26 at (207) 863-2230. For further information about the concert at the Dunaway Community Center in Ogunquit, please call (207) 646-7055. Information may also be found on the festival website at www.sealbayfestival.org.
The Seal Bay Festival—P.O. Box 824, Vinalhaven, Maine 04863, (207) 863-2230